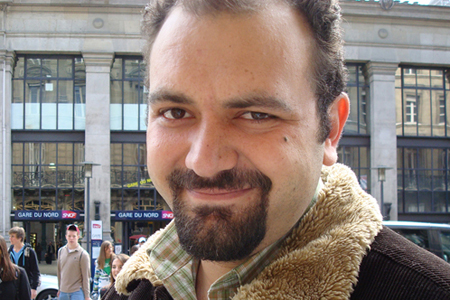 The Human Rights Film Network joins the Nyrabia family and the international community calling for the immediate release of our friend and colleague Orwa Nyrabia. Syrian filmmaker, producer and filmfestival director Orwa Nyrabia was arrested in Damascus International Airport while traveling to Cairo at noon on Thursday, August 23rd, 2012. Nyrabia's family still has no information about the reasons for his detention or his whereabouts.Nyrabia graduated from the Higher Institute of Dramatic Arts in Damascus in 1999. He participated at the Cannes Film Festival in 2004 for his lead-role in the film "The Gate of the Sun" by Yousry Nasrallah which was based on the Lebanese Elias Khoury's novel.
Nyrabia is a graduate of the prestigious High Institute for Dramatic Arts in Damascus, where he studied acting and starred in several films before moving to film production. In 2002, along with a fellow Syrian fellow filmmaker, Diana El Jeiroudi, he established PROACTION FILM, one of the few independent production houses in Syria. The company mainly focuses on issues of social justice and gender. Nyrabia contributed in several Arab and International collaborations and networks to support the documentary film industry in his country and the rest of Arab Region. He was honored as a member of the jury at international film festivals including Ibn Rushd in Tehran and in Amsterdam, Leipzig and Copenhagen among others.
Nyrabia also founded the DOX BOX International Documentary Film Festival, an annual series that has attracted considerable attention in the region and elsewhere and garnered international support. This year, DOX BOX organizers decided not to hold the festival in Syria, in protest against the violence. "We are outraged, disheartened and anguished at the silence of the world as it has witnessed the massacre of our people," the organizers said in a message on the web explaining their decision. "Silence is complacency." Instead Nyrabia gathered the support of over 30 film festivals around the world to screen Syrian documentaries as an act of solidarity on March 15 - the DOX BOX GLOBAL DAY in which several HRFN member festivals participated.