Book launch: Arabic Translation of Setting up a Human Rights Film Festival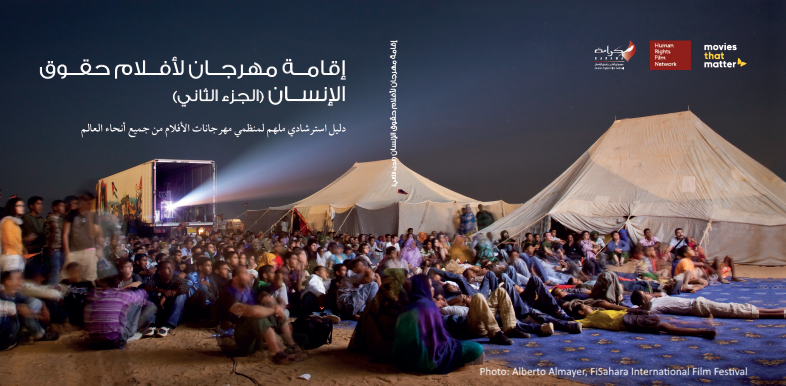 On 7 December 2017 the Karama Human Rights Film Festival in Jordan launches the Arabic translation of a handbook on setting up a human rights film festival. The 257-page book offers a practical understanding regarding the planning and execution of a human rights film festival.
Written by festival organisers from around the world, Setting up a Human Rights Film Festival focuses on the needs and challenges of festivals that are sprouting all over the world. The book, first published in English in 2015, has now been translated into Arabic by Movies that Matter, in collaboration with Karama Human Rights Film Festival, One World and the Human Rights Film Network.
While drawing on some common experiences to all human rights film festivals, the handbook does not have a one-size-fits-all approach. Instead, its pages offer a varied tapestry of stories about festivals that face vastly different realities around the world: from rural communities in Sierra Leone and Bolivia to urban settings in Jordan and Malaysia. The book offers first-hand experiences and lessons learned on the many tasks needed for a successful festival including fundraising, overcoming logistical problems, approaching new audiences that are unfamiliar with film, dealing with censorship and security threats.
The Arabic translation is launched in Jordan during the Karama Human Rights Film Festival's 'Must-Meet Meeting'. For a free download of the book, see this page, which also offers more information about the handbook and its English and Spanish versions. It is also available on the website of Movies that Matter. If you would like to order a hardcopy of the handbook, please contact us by sending an email to international[at]moviesthatmatter.nl. A postal fee may be requested, depending on the location.
Date:
Thursday, December 7, 2017 - 10:45