HRFN publishes guide for emergent film festivals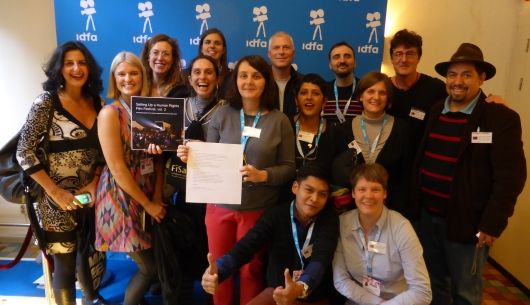 To celebrate the 10th anniversary of the network, and as a response to the proliferation of new human rights film festivals sprouting all over the world, the Human Rights Film Network (HRFN) is releasing the second edition of Setting Up a Human Rights Film Festival, an inspiring guide for film festival organisers from all over the world. It is a practical handbook focusing on the needs of festivals in the developing world, where democratic systems are still emergent or non-existent, where press freedom is at stake and where film has become a key tool for social change. Along with its first edition, published in 2009, this is the only existing handbook that addresses the specific needs of human rights film festivals. It will be launched in The Netherlands on the 25th November, at the HRFN network brunch at the International Documentary Film Festival Amsterdam (IDFA).
Edited by One World in Prague, FiSahara in Algeria and Movies that Matter in The Netherlands, and with input from dozens of festivals from around the world, the handbook functions as a practical guide to support current or future festival organizers by introducing them to the how's and what's of organizing a human rights film festival.
The chapters draw upon the experience of network members, whose stories are presented in engaging and informative case studies. For instance, FiSahara, which takes place in the Sahrawi refugee camps in the heart of the Sahara Desert, shows how film can help empower a refugee population and shed international light on a forgotten conflict. And the international film festival Truth, Memory and Justice in Guatemala presents the lessons learned by a team that organizes a film festival in the context of historical political violence and a strong state aversion towards human rights narratives. The Karama Human Rights Film Festival in Jordan shares its experiences with security challenges and networking in the Arab world. The Festival Ciné Droit Libre in Burkina Faso presents their mobile cinema activities that connect with new audiences in rural or marginalized communities. Docudays UA of Ukraine presents a riveting account of how its 2013 edition was caught up in the EuroMaidan revolution and screened films in the square, filmed footage of the demonstrations and handed out coffee and blankets as the protests unfolded.The Human Rights Film Network will present the manual as a work in progress at its networking brunch during IDFA on the 25th of November from 11:00 – 13:00, in Festival Café De Jaren at Nieuwe Doelenstraat. All interested are welcome to join the meeting and to pre-order a printed version.The HRFN is convinced that this handbook will be a valuable resource for start-up film festivals aiming to contribute to social justice and human rights around the world. A number of chapters is available already and can be accessed below. Stay tuned for the complete handbook that will be published soon. See the table of contents of the handbook below. Chapters1. We Are Making a Change, Don't Forget: Introduction
2. Human Rights Film Festivals: Breaking the Silence in Various Approaches
3. Knowing Yourself and Your Audience: Programming a Human Rights Film Festival
4. Film Festivals with Guts: Security and Censorship
5. Now What Do You Think? Film Festivals as a Platform for Discussion
6. Production & Team
7. The Nuts and Bolts: Technical Production
8. How to Successfully Promote Your Festival
9. Adding Water to the Soup Pot: Finding Resources for Your Festival
10. Did We Do It Right? Evaluating a Human Rights Film Festival
Case studies
Karama Human Rights Film Festival / Jordan
Freedom Film Fest / Malaysia
Human Rights Human Dignity International Film Festival / Burma
Ciné Droit Libre: A Festival of Mobile Cinema Screenings in Burkina Faso
A Festival in Exile: FiSahara International Film Festival / Western Sahara
Docudays UA International Human Rights Documentary Film Festival / Ukraine
Human Rights Film Festival in Guatemala Ushers In Criticism And Dialogue
Opening Eyes in Sierra Leone: The Opin Yu Yi Human Rights Film FestivalAppendix
List of Human Rights Film Festivals
Become a Member of the Human Rights Film Network
Date:
Tuesday, November 18, 2014 - 14:00